Bridgestone Tires
Rigorously Engineered
You can rely on Bridgestone tires at every mile. Explore your options online, get a quote, and visit your local Wheel Works today!

Why Buy Bridgestone Tires?
When Shojiro Ishibashi founded Bridgestone in 1931, he sought to create a company known for its world-class, superior products. Ishibashi's vision remains at the heart of Bridgestone today. With tires for almost every vehicle, every road, and every season, it's unsurprising that millions of drivers trust Bridgestone tires every day to get them to their destination. With engineers constantly at work to improve the performance, safety, and quality of Bridgestone tires, Bridgestone delivers superior tires for every twist and turn of your journey.
Bridgestone Car & Truck Tires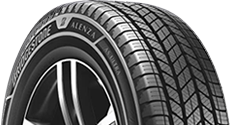 Bridgestone Alenza Tires
With an excellent balance of wet, winter and wear performance, Alenza tires are the premium highway touring option for drivers looking for a luxury experience from their CUV, SUV or truck. Alenza tires keep you in control of your journey year round with category leading acceleration on dry roads, plus enhanced acceleration in wet conditions and braking in dry conditions. Engineered with QuietTrack technology for a quiet and comfortable driving experience that perfectly complements your premium SUV, CUV or truck.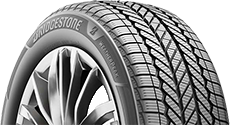 Bridgestone WeatherPeak Tires
The new Bridgestone WeatherPeak tire pushes the all-season category to new heights, creating a touring tire with true all-weather protection. The Bridgestone WeatherPeak tire keeps you prepared by bringing confident all-weather protection to the touring tire category. Bridgestone's category-leading wet and winter performance, combined with a quiet, comfortable ride, ensure that you enjoy every mile with the confidence that a little rain or snow won't slow you down.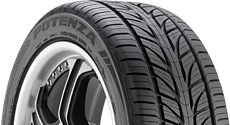 Bridgestone Potenza Tires
Ready to unleash your driving potential? Potenza performance tires are engineered for smooth, sleek handling so that drivers can get the most out of their sports car or performance vehicle. When you want to make driving as fun as possible, even on wet roads, Potenza Tires deliver impressive grip and wet performance to give you ultimate handling and response. The Potenza line features summer and all-season performance, high-performance, and ultra-high performance tires.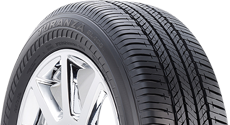 Bridgestone Turanza Tires
Your vehicle should get you from Point A to Point B comfortably, and quietly. With Bridgestone Turanza touring tires, that's precisely what you'll get. Turanza Tires offer luxury performance with a smooth, quiet ride in both wet and dry conditions, thanks to silencer grooves that trap sound within the tire's tread and an asymmetric sidewall design for ultimate stability. Drivers who prioritize less road noise and more year-round comfort choose Turanza tires for superb all-season performance.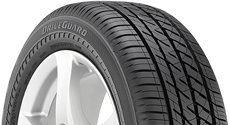 Bridgestone Driveguard Run-Flat Tires
Flat tires happen. Consider Driveguard Tires your protection from being stranded in unsafe or inconvenient locations. With the revolutionary Bridgestone DriveGuard technology, a quiet ride and confident handling are paired with the ability to drive up to 50 miles at speeds of up to 50 mph after a tire has been punctured. No more standing on the side of a busy highway or a dark, deserted street corner. With DriveGuard tires, you're able to get to a safe location to get that flat fixed.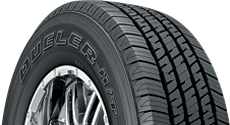 Bridgestone Dueler Tires
Sometimes the road less traveled is the road for you. Drivers setting out to explore challenging terrain need a set of Dueler light truck and SUV tires. Optimized contact patches provide ultimate control during dry conditions, while silica in the tire's compound and specialized grooves provide powerful traction during wet conditions. Equipped with unique technologies that deliver easy handling, quick steering response, durability, and long tread life, Dueler Tires offer versatile performance for truck, SUV, and CUV drivers.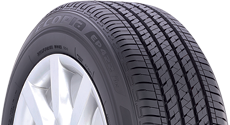 Bridgestone Ecopia Tires
Taking fewer trips to the gas pump is a triple win: it's better for your wallet, your schedule, and the planet. With Ecopia Tires, engineered to help your car achieve its maximum fuel efficiency, drivers can stretch the time between fill-ups while enjoying reliable all-season performance and comfortable handling. The secret lies in the Ecopia tire's fuel saver sidewall and tread compound, which work to improve rolling efficiency. The more efficiently a tire rolls, the less gas it requires to travel the same distance. Drivers looking to get more MPG in summer, winter, spring, or fall choose Bridgestone's Ecopia passenger tires.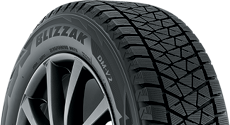 Bridgestone Blizzak Winter Tires
Drivers facing tough winter conditions need tires that are up to the challenge. Blizzak Tires are specially formulated to perform their best when conditions are their worst. When ice, snow, and slush cover the roads and temperatures hit record lows, Blizzak tires offer the traction and handling you can trust. Utilizing NanoPro-Tech polymers, multi-cell tubes, and 3D Zig Zag Sipes, these tires provide enhanced grip, flex, and bite to ensure you can handle whatever the coldest conditions throw at you.
Where Can I Buy Bridgestone Tires?
If all of this great info has you screaming, "Where can I buy Bridgestone tires near me," then you need to head to your local Wheel Works now! Find your nearest Wheel Works online and either swing by, or conveniently schedule an appointment online. "Wheel" see you soon!
Bridgestone Tires
Proud To Carry The World's Best Tires