Heating & Cooling Repair
Don't Sweat It
Under the hood or in the cab, we'll keep your car's temperature exactly where it should be. Make an appointment at your local Wheel Works today!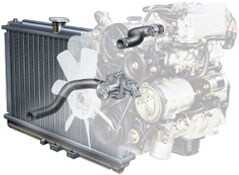 Car Heater, Radiator & A/C Repair
Whether you need to fix your car heater, radiator, or A/C, our technicians will make sure all of your vehicle's various temperatures are just right. We know how nerve-wracking it can be to watch your vehicle's temperature needle rise, as a hot engine under the hood can lead to serious problems. Plus, driving in a car that's too hot or too cold can lead to an uncomfortable ride! Quick part replacement or complex repair, we'll perform a detailed inspection of your heating and cooling systems to determine the right solution for your car and budget.
Heating & Cooling Parts We Replace or Repair 
Wheel Works offers a wide range of parts and components for your vehicle's heating and cooling systems. Depending on the results of your diagnostic, we may repair or replace the following parts:
Radiator
Radiator cap
Radiator hoses
Radiator fan/fan clutch
Anti-freeze
Water pump
Thermostat
Fan belts
Serpentine belt
Cooling sensor
Heater core
Heater hoses
Complete Radiator Flush & Service
Your heating and cooling diagnostic test may show that your engine is in need of a radiator flush and service. In fact, most vehicle manufacturers recommend replacement of the anti-freeze at scheduled intervals. Unlike many radiator shops that just perform a "drain and fill," Wheel Works provides a complete radiator flush service where technicians will:
Inspect system and pressure for leaks
Add flush chemicals to the radiator
Exchange fluid
Refill system with proper amount of recycled anti-freeze
12-month/12,000-mile limited warranty*
*See a Wheel Works teammate for complete terms and conditions of written, limited warranties.
Heating & Cooling Repair Near You
Visit your local Wheel Works for a quick vehicle inspection and heating or cooling repair today! Save time by scheduling an appointment online. Many locations are open late and on the weekends for your convenience. After all, car problems never seem to happen at convenient times!

Are things feeling too hot inside your car? Wheel Works also offers Air Conditioning Services. Keep cool and learn more today!