Run-Flat Tires
Stay on the Road, No Matter What
Get run flat tires from the best tire brands at your local Wheel Works, including DriveGuard, Potenza, Dueler, Blizzak and Turanza. Schedule your appointment today!

Rely on Run Flat Tires from Wheel Works
Imagine a day where there's no flat tires...now imagine that day is today! Run flat tire technology is making that dream a reality. Thanks to engineers at companies like Bridgestone, you can now choose all season run flat tires that allow you to drive longer and faster on a flat tire. With run flat tires, you may never need to wait for a tow truck again. You'll be able to reach your destination safely, even after a complete air loss or puncture. Keep reading to learn how a run flat tire's support ring continues to support your vehicle after a loss of pressure, how the cooling fins help prevent a blowout, and how the tire design keeps the tire from separating from the wheel. Run flat tires feature technology you can trust with your family's safety. Visit your nearby Wheel Works store to learn more about run flat tires from DriveGuard, Dueler, and Turanza. Then schedule your installation appointment at a time that's most convenient for you! The DriveGuard tire, Bridgestone's most popular run flat tire, uses the following technology to keep you and your precious cargo safe.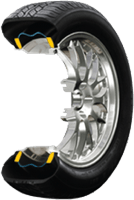 Stay Supported
A special support ring helps make sure your tire keeps going after a puncture.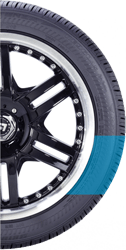 Stay Cool
Cooling fins increase airflow to the tire as it spins, keeping it cool and reducing the chances of a dangerous blowout.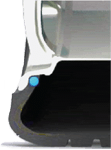 Stay Connected
Scientifically engineered beads keep the wheel connected to the tire even after pressure is lost, keeping you safe on the road.
Where Can I Buy Run Flat Tires Near Me?
At your local Wheel Works, of course! Search our online tire catalog to find the right run flat tires for your vehicle. Not sure which tire brand is best for your car, truck, or SUV? Choose from the largest tire selection at our lowest prices, coupons included. Once you find your tire, get a free quote and save time by scheduling your appointment online. With the best brands and unmatched service, your local Wheel Works makes sure you always get more!