Shocks & Struts
Stay In Control On the Road
From shock replacement to strut repair, our technicians have you covered. Stop by for a suspension inspection today or schedule an appointment!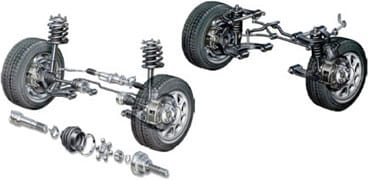 What Are Shocks & Struts?
If you aren't exactly sure what shocks and struts do in your vehicle, don't worry. You aren't alone. Broadly speaking, shocks and struts are both important parts of your vehicle's suspension system. The suspension system controls how your vehicle handles the road and ensures you and your passengers enjoy a comfortable ride.
"Shocks" are shock absorbers. They adjust to road conditions to reduce how much your car bounces, giving you a smooth, controlled ride. While struts are similar to shock absorbers internally and also control bounce and spring, they have an additional task.
Unlike shocks, struts provide structural support for the vehicle's suspension system. They help keep the wheels aligned properly and support weight placed on the suspension. Worn or damaged shocks and struts can heavily impact how your vehicle drives and handles, meaning it's important to keep them in good condition.
Shocks & Struts Red Flags
There are a few telltale signs that can alert you when it's time for a repair or replacement.
Bumpy, shaky ride
Vehicle bounces excessively after hitting a bump or dip in the road
Your tires are wearing down unevenly
The steering wheel feels stiff and is more difficult to handle
Your steering system makes noise
The front of your vehicle dips down when you press the brakes
Your vehicle rolls, sways, or leans on turns
You know your vehicle better than anyone. If something feels "off" and you find yourself bracing for bumps and bounces, it's time to get your shocks and struts inspected!
Steering & Suspension Services at Wheel Works
At Wheel Works, our ASE-certified technicians will completely inspect your steering and suspension system, including your shocks and/or struts. We can repair or replace worn or damaged shocks and struts.
Pop into your local Wheel Works today or schedule your appointment online. Your vehicle's shocks and struts not only affect your overall comfort, but your safety. Come in today and we'll get you back on the road for a smoother, safer ride.