Know the Right Time to Change Your Tires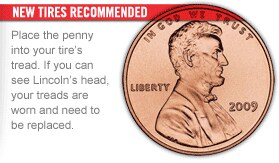 When your tires start to go, you really shouldn't. It doesn't matter how safely you drive or how great your vehicle is. Worn down tires can mean the difference between stopping in time or getting into an accident. Trust us, you don't want to find out that you need new tires when it's already too late.
Take the Penny Test
Make your safety a priority by examining your tires monthly. Don't worry, you don't need to be a certified auto mechanic to do this! In fact, all you need is some spare change! The tire penny test is a great way to determine if you're in need of new tires, or if you're getting close. Place a penny in your tire tread, with Abe's head pointing towards the ground. If you can see Abe's head, your tread might be too worn and it might be time to get your tires replaced! If his head is even with the tread, you have a bit of tread left but it's time to start shopping. Remember, tire tread is what allows your vehicle to grip the road and worn tread will not grip well, especially in rain or snow!
How Long Do Tires Last?
It can be tricky to determine when to replace tires, but understanding the average tire's lifespan can give you an idea of when to start regularly checking your tire's tread. Of course, the lifespan of your specific tires is determined by your road conditions, the climate, how well you care for them, and how much you drive.
In general, your tires need to be inspected after three or four years, and should be looked at by a professional at the five-year mark. Vehicle manufacturers recommend tire replacement at six years or earlier if they've failed the penny test! If your tires were purchased over ten years ago, regardless of their wear, they should be replaced.
Visit Wheel Works Today! 
Purchasing new tires can be a hassle, but your safety, as well as that of your passengers and other people on the road, is truly priceless. If you're ready to upgrade your tires, visit your local Wheel Works today, or schedule an appointment online! We keep thousands of tires in stock (and we're open seven days a week! ) so we'll get you rolling in a new set of tires in no time.