What you need to know about safety system alignment service
Vehicle Safety Systems are features that assist a driver during operation of a vehicle. Many modern vehicles are equipped with Safety Systems such as Steering Angle Sensor (SAS) and/or Advanced Driver Assistance Systems (ADAS). Sensors, cameras, lasers and radars that help your vehicle detect other vehicles, pedestrians and markings on the road all rely on proper alignment to function accurately.

DO I NEED IT?
The make, model and year of your vehicle as well as manufacturer specifications will determine whether you need a Safety System Alignment.

WHAT IS ADAS?
Advanced Driver Assist Systems assist you in safe driving and can include Safety Features such as Automatic Emergency Braking, Lane Departure Warning, Adaptive Cruise Control, and more.

WHAT IS SAS?
The Steering Angle Sensor monitors the vehicle's straight-ahead position. This sensor is tied to the Stability Control or Electronic Power Steering Systems.
Common Features Associated With Safety Systems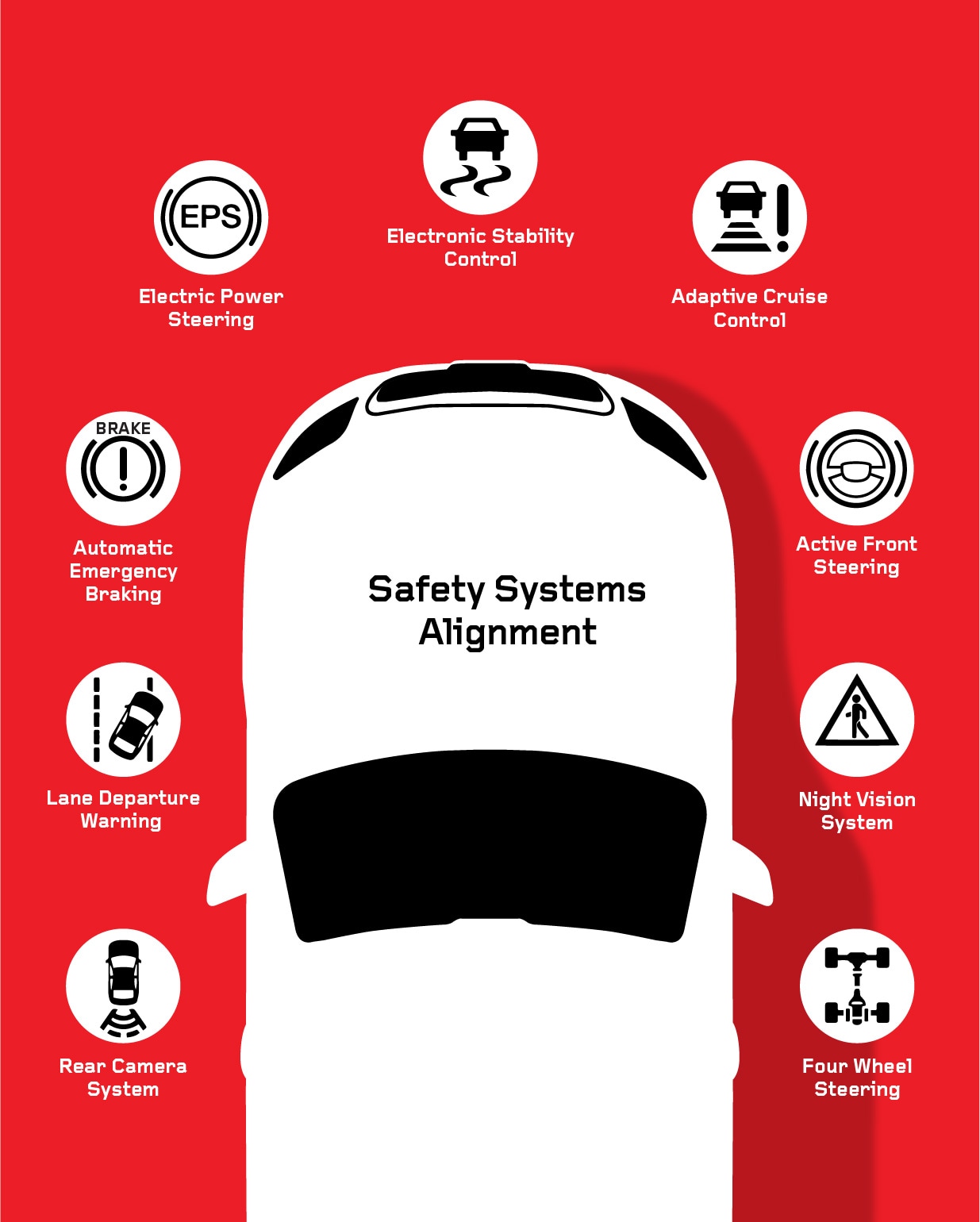 ADAS Features:
Rear Camera System (RCS)
A special type of video camera that is attached to the rear to aid in backing up.
Lane Departure Warning (LDW)
Warns the driver when the vehicle begins to move out of its lane.
Automatic Emergency Braking (AEB)
Detect an impending forward crash with another vehicle in time to avoid or mitigate the crash.
Adaptive Cruise Control (ACC)
Automatically adjusts the speed to maintain a safe distance from vehicles ahead.
Active Front Steering (AFS)
Makes the front wheels turn a certain number of degrees in accordance with the speed of the vehicle.
Night Vision System (NVS)
Extends the perception beyond the limited reach of headlights through the use of various technologies.
Four Wheel Steering (4WS)
All four wheels turn at the same time. The rear wheels are controlled by a computer and actuators.
SAS Features:
Electronic Stability Control (ESC)
Helps drivers maintain control of their vehicle during extreme steering maneuvers.
Electric Power Steering (EPS)
Assisting the driver to turn the steering wheel.
YOUR SAFETY IS OUR #1 PRIORITY
We invest in the latest technology, employ the best technicians and train them to get you back on the road safe. Vehicle requirements vary by vehicle manufacturer, year, make and model. Not all vehicles equipped with safety system features require recalibration, but if they do, Safety System Alignments require:

HIGHLY SKILLED TECHNICIANS

STATE OF THE ART ALIGNMENT TECHNOLOGY

MORE TIME TO PERFORM
WHAT IS INVOLVED IN A WHEEL ALIGNMENT SERVICE?
A wheel alignment will include inflating your tires to the correct air pressure, inspecting the steering and suspension system, aligning the vehicle to manufacturer's specifications and a test drive to ensure all systems are aligned to the straight-ahead position and working properly.
If your car requires the recalibrations of features associated with Advanced Driver Assistance Systems as part of the alignment service, a Safety Systems Alignment will be required to recalibrate cameras, sensors and radars along with a test drive to ensure these systems are working properly.
Failure to perform OEM required recalibrations may cause a vehicle to operate erratically, which may contribute to collisions or other safety issues.
HOW DO I KNOW IF MY VEHICLE REQUIRES SAFETY SYSTEMS RECALIBRATION?
The most common manufacturers that may require a recalibration of ADAS features as part of an alignment service are:
• BMW • Audi • Ford • Lincoln • Jeep • Kia • Dodge • Subaru • Volkswagen • Chrysler • Porsche • Chevrolet • GMC • Hyundai • Infinity • Lexus • Mercedes Benz • Toyota
*Most of our locations are equipped with the latest technology to perform Safety System Alignments but capability varies per location.